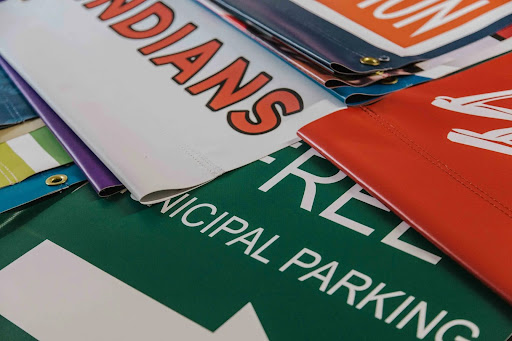 Vinyl banners are an excellent solution for businesses looking to promote or advertise their products and services. These banners are a cost-effective and versatile option as they can be made with any number of vinyl products and can be finished in any size needed. Vinyl banners are typically used in exterior applications although they can be used for interior purposes as well.
Vinyl banners are used extensively by businesses such as automobile dealers, shopping centers, stand-alone retail spaces, athletic and sports arenas, medical and health care facilities, real estate companies as well as small "mom & pop" stores and businesses and corporations of all sizes. Whenever there's the need for businesses to promote, advertise and relay important messages to a wide audience, vinyl banners are an excellent option.
What Is A Vinyl Banner?
Vinyl banners consist of a combination of materials – a 'scrim' polyester mesh and vinyl. A vinyl banner with higher quantities of mesh fiber creates a smooth, finished look. The most commonly used material is a heavyweight plastic called PVC. The weights of the different banner substrates vary. Moreover, banners can be single or double-sided, depending on material selection. Those looking for quality polyvinyl banners always prefer banners made of polymeric plasticizer. The cheap version of "polymeric plasticizer" is a "monomeric plasticizer," but it is prone to cracks or breaks. A polymeric plasticizer is a softening agent to provide vinyl banners with movement and flexibility. It also increases the longevity and appearance of the banner. In the case of exterior light pole banner vinyl, an additional block outliner is fused with the polyester scrim during manufacturing. This material produces a light-blocking effect which keeps the printed images on the front and back of the banner from shadowing through and distorting the visual appeal of the design.
Weight Options Available In Vinyl Banners
The weight of vinyl banner substrates ranges from as light as 9 ounces to as heavy as 18 ounces per square yard (610gsm). They're also available in double- or single-sided printing options. The choice of vinyl weight used is dependent on the application. For short-term use, lighter, less expensive vinyl by weight is recommended. As the expected service life increases, or the size and use of the banner increases, such as with light pole banners, building banners, and over-the-street banners, the more robust 18 oz block out vinyl is recommended.
Benefits of Using Vinyl Banners
Being one of the most recognizable signage types used by businesses, vinyl banners are ideal for communicating important messaging to a wide audience. Well-designed vinyl banners are eye-catching and can attract the attention of the intended audience. In addition to their visual impact, vinyl banners are an excellent option to invest in for many reasons including:
Durable:

Vinyl banners are weatherproof and sturdy. They are resistant to sun and water damage, making them perfect for outdoor advertising. They can remain intact even in snow, rain, and sunlight without damage. They're durable, which means they can last for years and can be used again whenever you need them. You can reduce the marketing cost for your business by investing in vinyl banners.

Customizable:

Vinyl banners can be easily customized to fit the exact needs of your business. One size doesn't fit all; therefore, you can customize your banner's size, style, design, and colors.

Colorful:

Vinyl banners can be digitally printed in beautiful eye-catching colors. You can attract many customers to your business or event by creating a banner rich in color with a unique design for your event or company. You can choose high-resolution banners if you want clear and crisp graphics with a high-glossy finish.

Created Quickly:

If you need a banner urgently, vinyl banners are a great option. They typically can be produced within a few days of art approval.

Affordable:

Vinyl banners are among the most cost-effective and affordable options in the large-format graphics industry. As with many products, the overall cost of a vinyl banner project can be impacted by the number of units purchased. Higher volume runs can result in a significantly lower cost per banner. However, for smaller businesses, whose budgets or needs point to a single banner, the cost of a single banner can bring a higher ROI (return on investment) than any other marketing tool.

Versatile:

 Vinyl banners can be made in any number of sizes which allows them to be displayed in many different locations such as storefronts, building facades, light poles, building walls, windows, over-the-street locations to name a few. Custom vinyl banners allow business owners to reach people and get their message seen as long as the banner is displayed. With proper placement and lighting, custom vinyl banners can be "working" 24/7 365 for a business.
These benefits can help you unlock infinite opportunities for your business. These benefits show that vinyl banners are powerful advertising and promotional tools. Whether you run a storefront, trade, or organization, banners can help you cost-effectively achieve your business goals.
Designing A Vinyl Banner
Though designing files for banner printing is similar to other products; however, there are a few tips to consider to create a perfect banner. 
When designing files for large-sized banners, you will get more flexibility in resolution for vector-based elements.

Ideally, logos, graphics, and text should all be vectors. Photographs should be at 300dpi, but 150 dpi can work if it is the only resolution available. Higher resolution images will always produce higher-quality banners.

You can submit files with 150dpi, but it doesn't apply to image-based elements. Logos and images should always be at 300dpi.

The type of vinyl you should choose depends on the purpose for which you need a banner. Gloss banners work best when you have to hang or place them indoors. Matte banners are perfect for outdoor advertising. Choosing glossy banners is not recommended outdoors as it can sometimes be difficult to read words due to glare in the daytime.

If you plan to reuse your banner, avoid including information that could change. For example, instead of putting the exact price after the discount, it's better to advertise by saying "50% Off On Regular Price" instead of "Just $6.99 on Saturday, March 12". This way, you can reuse banners repeatedly. Roll-up banners or fold them appropriately and store them safely for later use.

Determine the space where you plan to hang your banner and take proper measurements of the area available. Make a plan for how to mount the banner.
Apart from designing, the printing method used to create vinyl banners is based on a few variables: the artwork, the size of the banners, and the quantity of the banners in any given order. 
Digitally Printed Banners: These banners are printed with eco-friendly Hewlett Packard (HP) proprietary Latex inks. The ink contains durable pigments, which provide better-quality weather and UV-fading resistance. HP offers a 3-year warranty against ink failure on exterior non-laminated substrates. For small runs, or when an order contains multiple designs, photographic images, or intricate artwork that cannot be rendered with "spot colors", the digital print on vinyl will be the recommended option.
Screen Printed Banners: These banners are printed with solvent-based exterior grade screen-printing ink. The primary benefit of screen-printing over digital printing comes into play when there are high-volume runs of spot color designs. Automatic screen-printing presses can run significantly faster than typical roll-to-roll digital presses which contribute to a lower cost per unit for high volume runs.
Where Are Vinyl Banners Used?
With the advances in digital printing technology, printing on fabrics has replaced many of the previous instances where digital vinyl printing would have been the norm. There are, however, many situations where vinyl banners still have a strong foothold and remain the material of choice for those applications.
Light Pole Banners: Probably the most ubiquitous use of vinyl is with Street Pole Banners. This popular product is used extensively by businesses, academic institutions, municipalities, and retail environments all across the country. While some light pole banners are still made more traditionally with a screen-printing process on marine acrylic fabric, more and more customers are choosing digital vinyl banners over that process. As stated previously, as with any vinyl banners, the digital vinyl pole banners are cost-effective, durable, and can have a high visual impact. The opportunities for using light pole banners are extensively given, wherever there is a light pole, there exists an opportunity to display a light pole banner!
Exterior Building/Advertising Banners: Due to the sometimes harsh conditions for exterior applications, viny is the go-to material of choice. With the inherent weather resistance and structural integrity of vinyl, this material is recommended for most exterior applications. The versatile characteristics of vinyl allow it to be fabricated in any number of ways including the use of heavy-duty, webbing reinforced hems, industrial brass grommets, ropes with thimbles as attachment points, and multi-layer pole sleeves. The density and weight of vinyl allow it to be sewn with industrial sewing machines using heavy, UV-resistant thread.
Corporate Branding/Logo Banners: Another common use for vinyl banners is for corporate branding and/or logo banners. Often, branding campaigns orchestrated by product managers for example will include sending out hundreds of small banners, imprinted with corporate slogans and logos, that are sent out to their distributors and/or sales locations. Again, the vinyl is a cost-effective, easily printed medium that can be produced on a very soft flexible substrate, that can be sewn and grommeted for the end-user to proudly display.
If you are looking for a high-quality, experienced, and versatile print partner your choice is easy! Material Promotions has the expertise and in-house production capabilities to deliver your project on time, on-budget while exceeding your expectations. For details, please visit https://materialpromotions.com/.