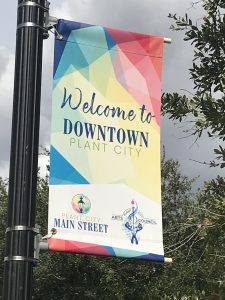 We've all seen those banners outside stores or car dealerships that just look a bit cheesy. Having effective, well-designed street pole banners can make a huge difference not only in spreading your message but grabbing people's attention as well. Your banners should also be able to withstand changes in weather so they can last long enough for people to notice. There are many factors that go into making a great street pole banner, so here's some tips to help you get started.
Ensure Your Message is Colorful, Big, and Readable
Street pole banners don't offer much space, so you have to keep your message simple and large in order to be quickly understood. By using bolder, easy-to-read fonts, your banners will get your message across without people having to squint or completely miss your message as they're passing by. Effective street pole banners should also include well-designed graphic elements and colors that are visible and clear from a distance. If you're not too confident in your design skills, we have a team of graphic designers who are always able to help out!
Make sure Your Banner isn't Lost on the Pole
Depending on the height of the pole your banner will be mounted on, you'll have to account for the size of your banner. Under-sizing your banner could leave it lost on the pole and hard to see, especially for passer-byers. You'll want to factor in your desired height, distance, and aesthetic when determining your banner size to ensure your message can be seen and read.
Good Banner Hardware
With your banners being outside, they have to be able to withstand changes in weather. Getting the most out of your banner's lifespan includes having properly designed and manufactured banners to hold up against rain, snow, heat, and cold. Good hardware also includes quality brackets in order to keep your banners up during strong winds.
Get Creative with Your Location
Street pole banners can be used by all kinds of municipal and commercial organizations. Of course, your banners should be located in a relative space from your on-site location, but also in an area where people can see your banners and still come find you. Some popular areas for banners include:
Downtown shopping areas
Neighborhoods
Parking lots of malls
City streets
Sidewalks
Street Pole Banners at Material Promotions
Material promotions is an expert, large-format graphics production company offering both screen printing and digital output capabilities on a wide array of custom products. With our combination of talented designers and materials, we can deliver you high-quality, durable, and unique banners for any occasion.
Call for Your Free Quote
Contact us with details about your project to receive a quote. We offer free consultation on project scope and implementation as well as free samples of printed products and raw materials. Need help with your layout? Material Promotions offers free graphic design services to our retail customers!