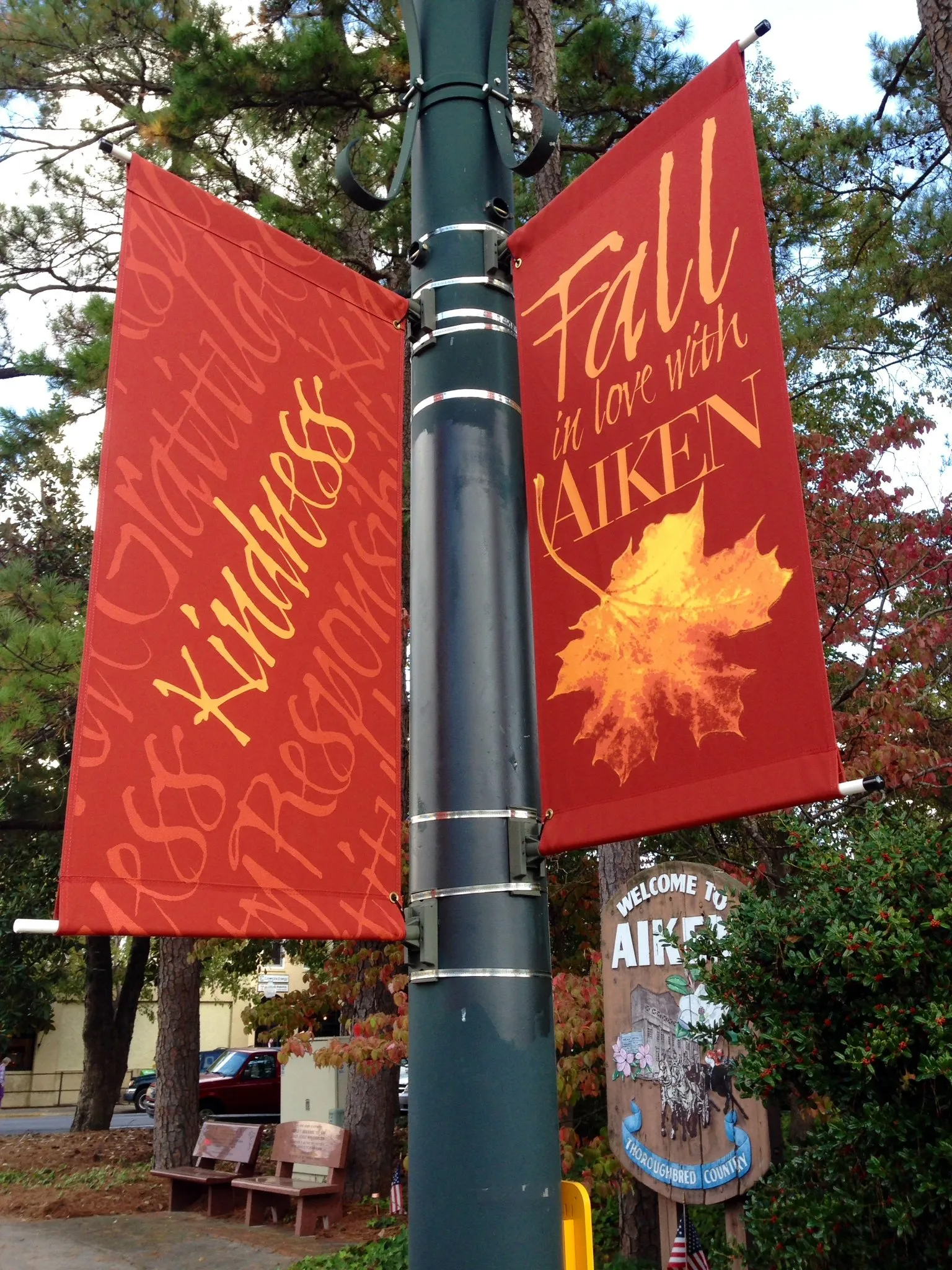 Light pole or street pole banners can add an inviting feel to any community, campus, business, or other public outdoor areas. As we are fond of saying, "Wherever there is a light pole, there's a perfect spot for a light pole banner!"
Pole banner designs can be completely customized to display logos, city or business names, holidays, seasons – and so much more. Aside from looking great, you also want to be sure your banners can withstand inclement weather, and are durable enough to avoid fading or tearing. Light pole banners are made with a variety of different materials, including vinyl, canvas and specialty fabrics that are chosen specifically for the banners' intended use such as a short-term event promotion or long-term branding and messaging.
Common Banner Locales
Since pole banners can be used for a host of different applications, there are equally as many end-users who utilize this unique product. The most common areas for street and pole banners include:
Campuses of any size. K-12 through Universities.
Downtown shopping areas
City neighborhoods
Car dealerships
Theme parks
Event venues
Know Your Message
One of the first steps in creating a banner design is determining your intended message.  Are you a school administrator looking to display your school colors and mascot? Or perhaps, as a downtown improvement association are you wanting to convey an informative, but welcoming invitation for people to take advantage of everything your downtown offers to both residents and visitors alike? A shopping center manager may look to highlight certain stores or shops located in their space by displaying those highly-recognizable brand logos on banners installed on the parking lot light poles.
No matter what message or information you're interested in conveying, using highly visible, colorful and captivating light pole banners is a great way to create interest and capture the attention of your intended audience. Whether encouraging school spirit, promoting brands or events, or simply adding some holiday cheer to your downtown streetscape, light pole banners are an extremely versatile and effective medium to broadcast your message.
Here are a few ideas for what your banner could advertise:
Communicate with customers
Direct clients to your business
Upcoming sports or entertainment events in your community
Seasonal changes (fall, spring, winter)
Upcoming holidays
Campus logo or school name
Make Your Message Bold
It's best to keep your message on the simpler side when it comes to street pole banners. You also want to make sure it's large enough to see, and can be quickly understood as your audience travels by. Without being too busy, you'll want to incorporate the right amount of text, colors and graphic elements to be visible from a distance but not seem too jumbled. Our experienced team of designers can help you with these elements to ensure your vision is brought to life.
Banner Installation Considerations
It's important to know the dimensions of your pole so when it comes time to mount your banner, it gives off the desired aesthetic. While an 18" x 36" banner looks impressive close-up, once it's installed 16' in the air it may resemble a postage stamp.
You'll want to factor in the desired mounting height, distance from roadways/walkways, as well as the shape of the light pole. Round light poles readily accept standard stainless banding to install banner brackets. Larger commercial light pole that are square will work with standard stainless banding unless the sides are wider than 4". For these applications there are commercially available shims that the installers can use to ensure the proper torque is attained when tightening the banding.
Light Pole Banners at Material Promotions
Material Promotions is an expert, large-format graphics production company offering both screen printing and digital output capabilities on a wide array of custom products. With a specialty in manufacturing Light Pole Banners, we can deliver you high-quality, durable and unique banners for any occasion.
Call for Your Free Quote
Contact us with details about your project and to receive a quote. We offer free consultation on project scope and implementation as well as free samples of printed products and raw materials. Need help with your layout? Material Promotions offers free graphic design services to our retail customers!